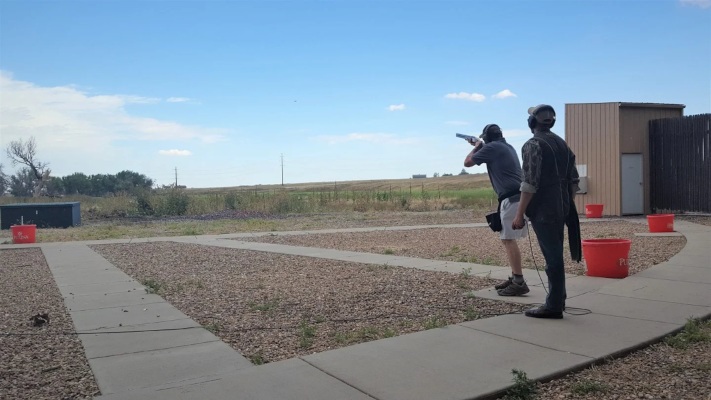 The question of which is better, trap shooting vs skeet shooting can only be answered well when you understand what each of them entails. This is because, much as people keep using the two activities interchangeably, they have some differences.
Skeet Shooting
Skeet shooting is one of the shooting categories or disciplines under clay shooting; where participants aim to shoot clay pigeons with their shotguns. In clay pigeon shooting, the people involved practice to shoot aerial objects when they are in motion.
A participant is expected to alternate among 7 shooting locations along some specified arc, trying to shoot 2 clays that are fired from pre-determined trajectories at specified speeds. The participant is expected to shoot from every one of the 7 shooting stations. In this game, since the total number of targets are thrown is 25 per round, it means the maximum one can score in a round is 25.
Trap shooting
In this shooting program, participants use their shotguns to shoot clay pigeons from 5 different locations, also called five stations or five stands. In a competition, the trap shooters are given five shots chances to shoot from a single location, and thereafter allowed to shift to the next location until all the five locations are covered. As such, the scoring for every participant is based on a total of 25 for every trap shooting round.
Often in trap shooting, there is a good distance between the target launching trap house and the shooter stands, normally 15 meters; and the targets move in an upward trajectory toward the front. Doubles trap and bunker trap are variations of trap shooting that require more accuracy and faster reaction times.
Difference between Skeet Shooting and Trap Shooting
The distinction between the two shooting sports lies in the setup of the shooting activity. While in skeet shooting the shooter tries to hit targets launched from two machines, otherwise referred to as "houses", in trap shooting the shooter tries to hit targets launched from just one trap machine. In short, the throwing targets in skeet shooting converge before the shooter. The targets are launched from two opposite sides.
Trap Shooting and Skeet Shooting: Which is Superior?
To be able to determine if any of the two clay shooting disciplines is better or more superior than the other, you need to learn more about each of the two sports. For one, shooting of skeets is placed under the same category as trap shooting when it comes to competitions. After all, trap vs skeet shooting, they are both forms of clay shooting.
Also, both of these shooting sports can get you qualified for the Olympics, as the Olympic Games have a sport category known as "Olympic Trap". This Olympics sport competition entails six participants shooting at given targets, each person at a time. A trench is already dug around 15m away from the participants' shooting space, to hide some 15 traps arranged in clusters of 3.
It is from this trench that the set clay traps throw the target clay birds to a pre-determined distance but at different angles. In the meantime, the maximum elevation that forms the horizontal angle remains 45°.
As far as quality of the two competitive shooting games is concerned, neither one can be said to be more superior to the other. This is because both the skeet shooting and trap shooting experiences have a lot in common as far as the thrill of shooting targets is concerned. Also, they both put you on edge every time you anticipate some emerging clay targets. Trap and skeet shooting have different international version, such as American Trap, and International Skeet.
The reality is that like any shotgun sport, besides having the logistics right, like the trap throwing machines being of good quality, the rest depends on the participant. For you to be accurate on hitting the clay targets, you need to have done sufficient practices. This way, not only are you confident of your skills as you enter the competition, but you are also able to remain relaxed and controlled. On the overall, individual preferences prevail. Also, it's essential to follow proper gun safety rules and wear hearing protection when shooting. Whether you're participating in recreational shooting or youth shooting programs like the Scholastic Clay Target Program, gun safety should always be a top priority.