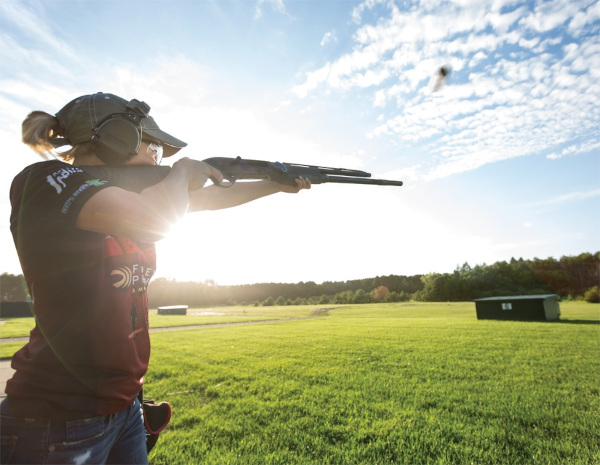 Trap shooting, which is one of the three main fields of clay pigeon shooting, has evolved over the years, since the 18th century when live pigeons were used as targets. Whether you are interested in trap shooting as a sport or as target practice during the hunting off-season, make sure you have the right choke tube for your gun. We'll try and make it easy for you by looking at the 3 best choke for trap shooting.
The first choke tube we'll look at is the Carlson's Choke Tube Beretta Benelli Mobil Trap Pak, Mod-Full-EF, 12 Gauge; the second one is the Browning Invector Plus X Full Tky/Trap Choke Tube, 12 Gauge; and the third and last one is the Browning Inv Midas X- Full Trap Choke Tube, 12 Gauge.
Carlson's Choke Tube Beretta Benelli Mobil Trap Pak, Mod-Full-EF, 12 Gauge
If you want to get into competitive trap shooting or are just interested in some target practice, it is important to arm yourself with a suitable choke for your gun.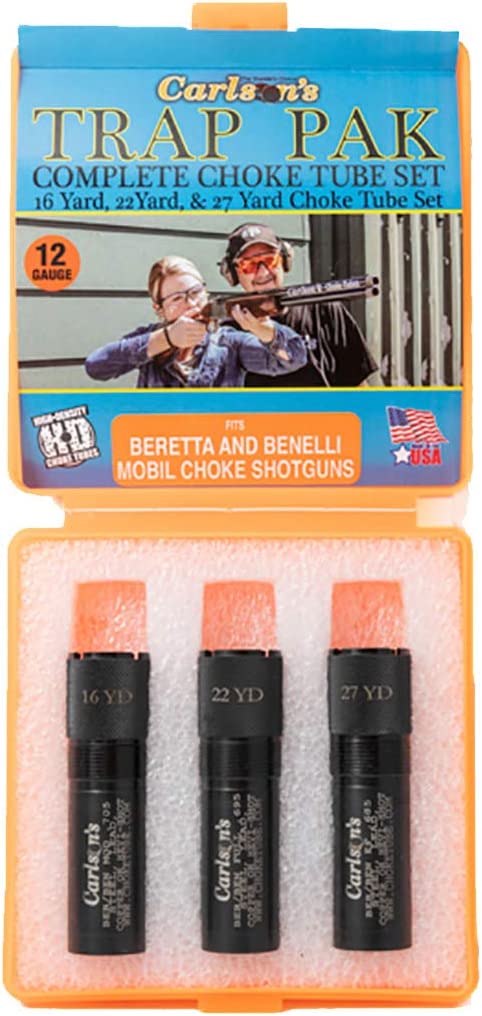 What makes the Beretta Benelli Mobil Trap Pak so popular
• Easy to use
All the choke tubes are knurled at the end, making it possible to remove or fix the choke tubes quickly and easily.
• Offers chokes suitable for a variety of shooting ranges
The Beretta Benelli Mobil Trap Pak has a set of 3 choke tubes suitable for different shotguns effective range. The shooting yardage is indicated on the choke tubes' extended heads, making it easier to choose the right choke depending on your shooting distance.
• It is very portable
When you purchase the Beretta Benelli Mobil Trap Pak, you get a free case big enough to hold all three choke tubes. This makes it easy for you to carry and store your choke tubes safely and conveniently.
• It offers better guns pattern
Another key feature of these shotgun chokes is their parallel sections which are 25% larger than regular various chokes. This enhanced size enables the chokes to throw pattern spread that are not only denser and tighter but also more consistent.
• It is durable
These choke tubes are made using heat treated 17-4 stainless steel and are, therefore, corrosion-resistant and strong.
Choke tube specifications
These steel shot choke tubes are 12 gauge with three different constrictions; one being Modified, the second one being Full, and the third one being Extra Full.
The physical dimensions are 9.57 by 4.29 by 1.18 inches. The chokes are black. The package weighs only 0.26 kg and considering it contains 3 choke tube options, this makes the Beretta Benelli Mobil Trap Pak one of the 3 specialty choke tubes.
Browning Invector Plus X Full Tky/Trap Choke Tube, 12 Gauge
Browning Invector Plus X Full Tky/Trap choke tubes are designed to the constriction standards within the industry. They also do not extend past the gun's barrel as they are a flush fit.
This choke is perfect for you, whether you want to engage in sports or a shooting waterfowl in the marsh.

Choke tube specifications
This Invector Plus X Full Tky/Trap from Browning is 12 gauge, and it has been manufactured using highly polished 17-4 stainless steel which makes it more resistant to corrosion.
The choke's dimensions are 6.3 by 4.3 by 1.2 inches, and the weight is only 0.1 pounds.
Why Browning's Invector Plus X Full Tky/Trap Choke tube is recommended
• It patterns excellently
It has longer choke tapers for use, with shotguns barrel that are back-bored. These help to throw great pattern density. Its shot pattern distributes approximately.
• It is very durable
The 17-4 stainless steel used to manufacture this choke tube is highly polished, making it more resistant to corrosion.
• It is light
This choke tube weighs a paltry 0.1 pounds, making it easy to carry and fix, or even to remove. In short, the choke does not add unnecessary weight to your gun.
In addition to being made from high-quality materials that make it extremely durable, the Invector Plus X Full Tky/Trap is also conveniently light. These qualities make it one of the 3 interchangeable choke tubes.
Browning Inv Midas X- Full Trap Choke Tube, 12 Gauge
This Inv Midas X-Full Trap choke tube from Browning is made from stainless steel and has a nice black oxide finish.
Users have praised its design saying it looks good. Others have said it has less plastic build-up when compared to other choke types. This choke is recommended not only for its suitability in sporting but also for its accuracy and convenience in waterfowl hunting, tactical and military use.

Choke tube specifications
The Inv Midas X-Full Trap Choke Tube is 12 gauge. It is manufactured using stainless steel and has a nice black oxide finish.
The choke's dimensions are 6.42 by 4.29 by 1.34 inches and it only weighs 0.15 pounds.
Why you should buy the Inv Midas X-Full Trap Choke tube
• It is long-lasting
Made from stainless steel and with a black oxide finish, the Inv Midas X-Full Trap is resistant to corrosion; and this makes it durable.
• It is lightweight
This choke tube only weighs 0.15 pounds, and it does not, therefore, add unnecessary weight to your gun. Hence, it is easy to carry and use.
• It is readily available
This Inv Midas X-Full Trap choke tube from Browning is readily available in the US.
• It is multipurpose
This choke tube is also suitable for hunting waterfowl, tactical and military use, besides being great for trap shooting.
The durability, weight, availability, and multi-functionality of this Inv Midas X-Full Trap choke tube from Browning make it one of the 3 commonly used choke tubes.
The three interchangeable chokes analyzed here come from the most reliable manufacturers operating in the US. Carlson's, the manufacturer that makes the Beretta Benelli Mobil Trap Pak, has operated in the US and beyond for over thirty years, cementing its place in the industry.
As for Browning, the company that manufactures the Invector Plus X Full Tky/Trap and the Inv Midas X-Full Trap, it has become synonymous with high-quality products. These include firearms and products meant for outdoor sporting. So it is also shotgun manufacturers.
Trap Shooting Tips
Some people have a knack for trap shooting, while others have to dedicate their time and effort to hone their skills. But you will always have something to learn about the sport and playing techniques, regardless of the category you belong to.
Whether you're playing this shotgun game on a day out with friends or competing in a tournament for a prize, you can always use some tips to up your game. This post shares the ultimate trap shooting tips that you can implement to hit the bullseye, or in this case, clay pigeons, every time!
What is Trap Shooting?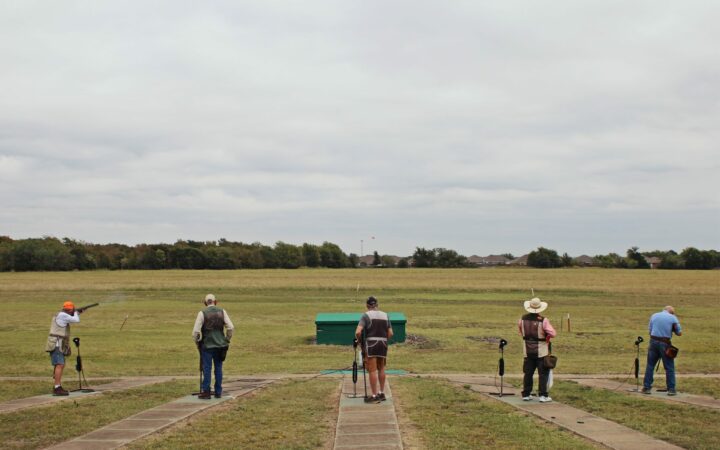 Though it might not seem like it, trap shooting is a decades-old game originating in the 1800s. What started as a learning platform for bird hunters aiming at turkey hunting has now evolved into an Olympic-recognized competitive summertime sport.
The trap shooter rotates in a semi-circular field, attempting to hit clay pigeons. Don't worry, you won't be shooting actual pigeons for lunch – you will be given clay targets which, ironically, look nothing like the upland birds.
How Does the Game Work?
Unlike sporting clay, each trap shooting round consists of 25 shots, though it may vary for the Olympics. Oscillating machines called bunkers to launch five targets in five different directions in the air. The trap shooters fire five rounds from five separate locations and rotate around the field once each shotgun shooter has completed their shots.
It might sound easy, but not knowing the target's angle creates a hurdle for even the most experienced trap shooters. This is where your experience and practice in taking out each clays shooting target (read: our trap shooting tips) comes into play:
12 Trap Shooting Tips
As mentioned above, this outdoorsman activity calls for various tactics and skill sets. And while there is an element of luck involved as well, you can rest assured that these trap shooting tips will help you hit the target the next time you're on the pitch.
1. Check Your Stance
Body positioning is crucial if you want to hit the target in the first go. Bending your body to the right will make a huge difference in your stance as a right-handed shooter. How come, you ask? This stance makes it more likely that you will mount the pistol correctly by deepening the "pocket" between your shoulder and neck. Mounting the pistol correctly means you will have a better chance at your target.
2. Feet Placement
Standing with your feet apart by an inch or two increases your sense of stability when aiming for the target.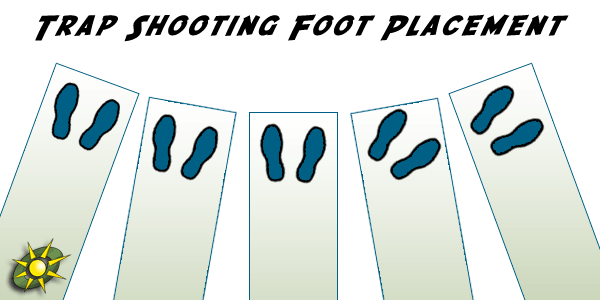 3. Establish Proper Gun Git
Gun fitting is crucial for any shooting sport such as shooting sporting clays and trap shooting, so you better get yours done if you are a newbie skeet and trap shooter. The right pistol fit significantly impacts how well you can locate and take down targets. Most firearms designed for off-the-shelf sales are constructed for shooters with "standard" heights and physiques. Getting yours modified can give you better control over the shotgun shoots. Some other staff is mainly depending on the choke.
4. Rest the Rifle Butt on Your Shoulder
Slightly resting the rifle butt on your shoulder straightens your head, improving your ability to focus on the clay target with your eyes. Now, you must ensure that you place the end of the rifle butt on your shoulder rather than against it. Try placing the flat surface of the rifle against your shoulder, and you'll be left with a dislocated shoulder. That said, ensure you're not mounting the whole thing on your shoulder. The gun's muzzle may rise when you press the trigger, and you might end up getting smacked in the cheek.
5. Be Firm With Your Gun Placement
Resting the trap gun firmly on your shoulder will give you command over it, and you will endure less recoil when you swing the firearm. Following this strategy can help you center-punch targets easily.
6. Protect Your Cheek from Getting Smacked
Constantly moving your head while aiming for the clay pigeons doesn't look professional, and you'll hardly hit any targets. Instead, move your cheek farther along the comb to stabilize the angle at which your head rests when holding the gun.
7. Make Sure You Gun Isn't Inclined
You want your rifle parallel to the ground when aiming for the target. Canting the gun a bit might seem tempting, and you may develop a habit of holding it this way. So, it's best to ask a friend to inform you when the gun is positioned correctly until you get used to it.
8. Adjust the Hole Point's Height
This is a savvy technique to use when the trap is improperly positioned, or the wind is lifting or lowering the targets. Tweaking two or three inches on your hold point wouldn't hurt – if anything, it will increase your chances of scoring.
9. Stick with What Works
If you find something comfortable, a particular stance, gun placement, or a vest, perhaps, stick with it! There is a time to practice 'something new,' and it's called the off-season. So, don't experiment in between tournaments unless you have to.
10. Remember the Magic Word – "Wait"
The temptation to hit the target as soon as it is in effective range is real, but this is the make-or-break moment. Your target isn't stationary, so shooting at its current location isn't going to get you anywhere. Give yourself about half a second to apply a bit of physics to assess where your target will be in the next half-second and shoot at that spot.
11. Follow Through with the Target Even after Taking the Shot
The magic word is applicable after you shoot your shot as much as it is before firing. You want to resist the impulse to dismount your gun too soon and keep the target in focus. Holding the rifle on your shoulder for a few more seconds can guarantee a smoother shot without resistance.
12. Practice As Much As You Can
You can learn these tips by heart, but they won't be of any use unless you implement them in real life. The duration of your practice sessions doesn't matter as much as the caliber of your practice. So, set some goals before each practice session and utilize your time on the field to achieve those goals.
Conclusion
Recall these tips whenever you feel rusty and anxious about your performance in the next hunting season. We hope you find these trap-shooting tips helpful. Until next time, Adios!