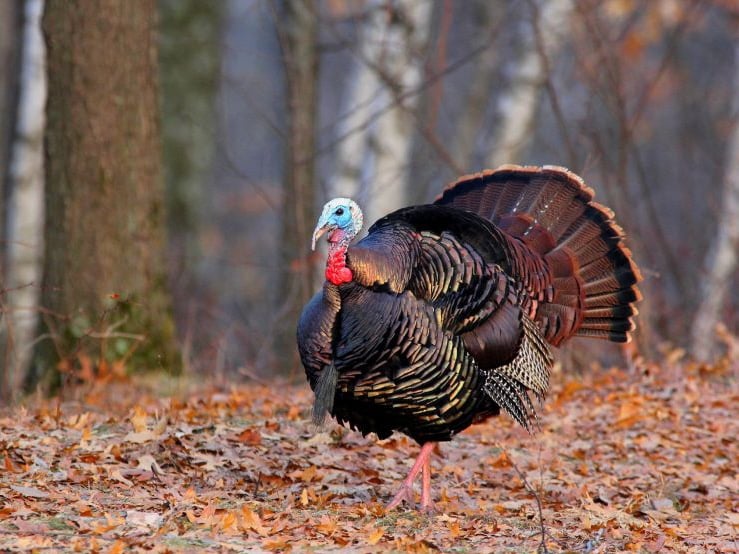 If you decide to go turkey hunting and you anticipate a fruitful experience, you have got to consider a few fundamental points, and that includes where to shoot a turkey.
Remember a turkey is a thick feathered strutting birds that cannot be felled with a weak shot from a mile away. It is also the kind of animal that one needs to take home with its body free of bruises, considering that most of the time turkeys are hunted for slaughter during feasts like thanksgiving. A bruised body would not present an attractive turkey for the occasion.
For beginners, you need to keep in mind the importance of knowing where turkeys mostly dwell, so that you have high chances of coming across a turkey as it traverses the area. Once you ensure you are in the right zone, keep calm but alert, waiting to locate a turkey. After you have identified wild turkeys in the vicinity, approach it stealthily, because you do not want to scare it away before you are ready to pull the trigger.
The next fundamental move is calling the turkey. Normally the hunter makes a series of common calls in a bid to draw the turkey's attention. You are highly advised to ensure your gun shell is properly chambered before you begin to make your calls. You then need to put your shooting gear on the ready by raising it appropriately to a shooting trajectory.
Setting Up the Best Shot
If you decide to lean against some big tree as many hunters do in preparation for game shooting, you need to rest your shotgun where you can have proper balance and stability. The best recommended place is the knee.
Your gun stock should be very near your own shoulder, because that ensures your gun remains in the same position even if you were to make several broadside shot. In short, hold your turkey guns in such a way that you can aim at a turkey as it changes positions without having to shift your location or your gun-holding position or shot angle.
Experienced turkey hunters have mastered the art of adjusting the aim of their gun muzzle without repositioning the whole of the shotgun shoots. Such mastery is important as you are able to make crucial movements while keeping everything else quiet and smooth with a proper turkey choke.
Consider the Shooting Range
It's important to determine the distance your shots are likely to cover, where the pellets are going to have optimal energy to fell the turkey. Remember that mostly your game hunting will be felled within a 40-yard distance. That's the effective range. Although it is possible to estimate the distance if you are an experienced hunter, it is helpful to carry a laser rangefinder, because you can use it to take readings of different spots and waiting until the turkey comes along. For example, you can identify certain tree stands in the area and check the distance from where you are positioned. While game hunters using shotguns try to shoot from a distance of 40 yards, those using bows keep a shorter distance of 30 yards.
The importance of marking the right shooting distance cannot be overestimated, because if you shoot when the turkey is too far off, you are either likely to miss it or simply bruise it.
Also, not only is it important to know where to hunting wild turkeys as far as distance is concerned, but also where the bird's physical body is concerned. The best shot placement on turkeys is either its head or neck. This not only ensures the wounded turkeys cannot escape, but also that its body remains clean for presenting at table. That's the turkey shot placement.
Ensure Shooting Accuracy
Avoid making any movements as long as you have a turkey within sight, because you may cause it to escape. In case it is necessary that you adjust your position or distance to suit that of the turkey, the best option you have is to hold on until the turkey has its head shielded from you by some obstacle, such as a tree, because then it cannot see you. The moment the bird is hindered from seeing you is the best time for you to set yourself ready, including putting your loaded shotgun in the most suitable shooting position. Unlike deer hunting, where shots aimed at the heart and lungs, turkey hunting requires a different approach. For body shots, aim for the butt of the wing, where the vital organs are located. For head shot, aim for the toms head or neck. That's the answer to where to shoot a turkey with a shotgun.
Once on the ready, all you need is a moment when the bird turns to face your direction, and you take your proper shot. In fact, you can give it turkey calls purposely to have it look into your direction. Often when a turkey hears a hunter's call, it extends its neck in an attempt to see who or what else is in its territory, and that gives the hunter a good opportunity to hit the turkey's neck or head with great accuracy. If you are this ready, there is minimal chance of hitting the turkey's trunk with numerous pellets and potentially messing the look of the hunted turkeys on the dinner table.
How Best to Hit the Turkey's Head or Neck
You need to take a good aim at the proper shot placement like head and neck because, unlike the rest of the body, these parts of the turkey are pretty tiny. At the same time, the bird keeps moving these parts around. So, after getting your distance right to ensure your shots are powerful, you need to ensure that your aim will be neither too low as to mess up the body of the turkey, nor too high as to miss the bird altogether.
That is why you need to ensure the head of your target turkey is somewhere above your shotgun's beads. If you aim in this manner, the muzzle of your shotgun cannot block you from seeing the turkey's head.
Also, even as you use the beads of your shotgun to level your aim, you can make it easier for yourself if you decide to make the turkey's wattle your target. Aiming at the bird's wattle from a good distance ensures you either hit the bird on the neck that is around 8" long, or a bit up on its head that is normally around 3" long. When planning turkey hunt, gun safety should always be top priority. Knowing safety rules, hunting resources, and staying up to date with hunter education courses. Be aware of surroundings, especially when hunting on public land.