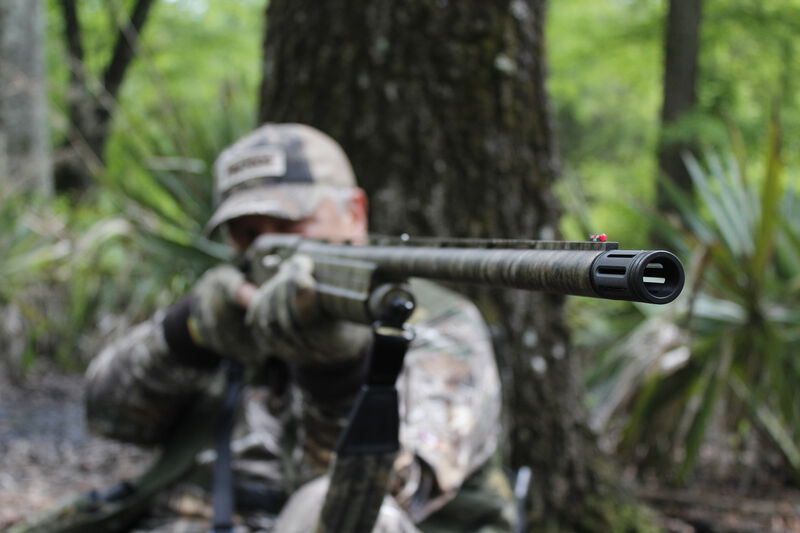 Turkey hunting is a popular sport, and for a good reason. Wild turkeys are delicious, and they can provide quite a challenge for hunters. In order to bring down a large tom, it's essential to use the right short gun and choke tubes.
In this post, we'll walk you through everything you need to know in order to choose the best turkey choke for your needs.
Carlson's Long Beard Ported Turkey Choke for Remington 12 Gauge
Carlson's Choke Tubes are known for having high-quality builds and excellent performance. This choke is designed to knock turkeys. After all, they have over thirty years of experience in generating pattern data for shotgun chokes and use premium stainless steel for their products.
With that said, here's a short but detailed review you can refer to if you're interested in getting Carlsons Long Beard Turkey Choke Tube.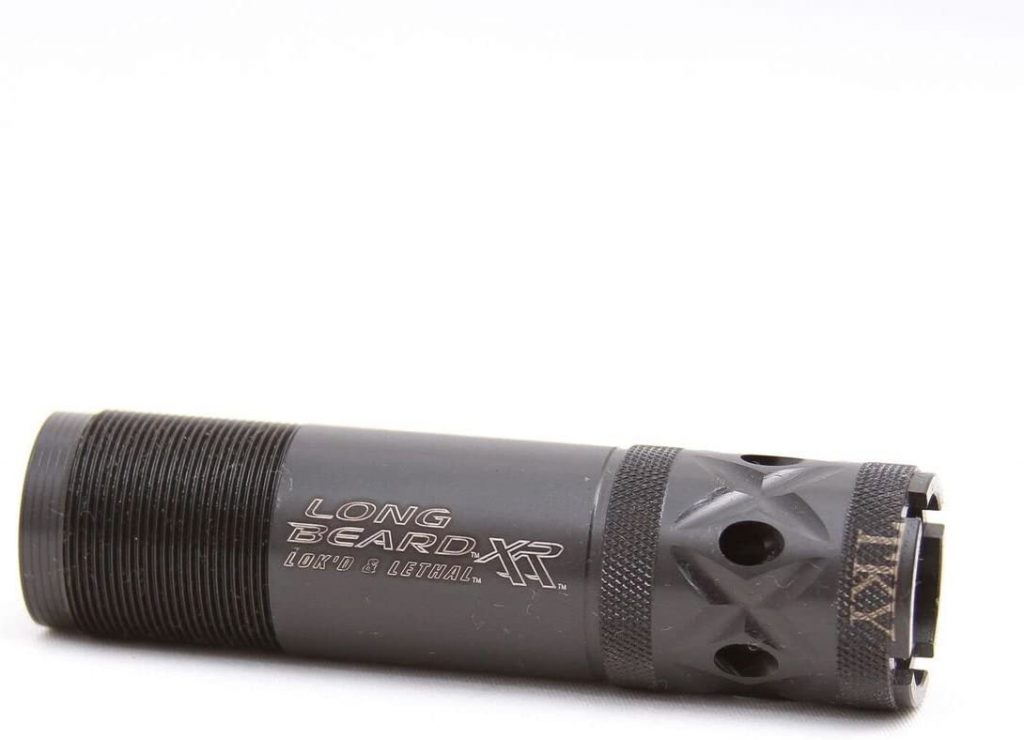 Quality of the Build
Carlson's Choke Tubes are highly preferred due to their sturdy stainless steel body construction. This time around, Carlson's Twelve-Gauge Remington Long Beard Turkey Choke Tube is made out of 17-4 stainless steel. This is what most competitive choke tube builds are made of.
The tube is also heat-treated to ensure that it performs well and lasts long. And if issues ever arise with your purchase, do note that Carlson offers a lifetime warranty for all their products.
Features
What makes this Carlson Choke Tube stand out is its shot-lok tech. This feature enables your gun to produce incredibly consistent patterns. This turkey choke's shot-look tech also provides an extended downrange scope, allowing you to throw decent patterns even as far as 60 yards.
Furthermore, this choke tube also features triple shot tech to lessen the deformation of pellets. And with a twenty-five percent longer parallel section, you're guaranteed to experience impressively tight patterns.
Ease of Use
This choke tube model has a straightforward installation process and is optimized to fit Remington firearms. And for the ultimate combo for game hunting gobblers, you can combine this choke tube with the Carlsons Winchester Long Beard XR choke. But even without this addition, this choke tube is pretty easy to use and will perform well on its own. Overall, this choke is excellent for its price.
Truglo TG182X Head Banger Long-Range Turkey Choke 12 Gauge
TRUGLO boasts itself as a manufacturer of excellent upgrades for various firearms. Having said that, one of their accessories for firearms includes their choke tubes, such as the TRUGLO Twelve-Gauge Long-Range TG182X Head Banger Turkey Choke.
Interested in purchasing this choke tube model? Here's a review that can help you make a decision below.

Quality of the Build
The TRUGLO Long-Range TG182X Banger Choke Tube is made with heat-treated steel to ensure excellent durability. Its ends are polished as well for enhanced sealing and seating, allowing you to use your turkey guns at max power while maintaining pressure throughout your performance.
This product is also produced using an automated or CNC machine, ensuring that the choke tube can offer excellent accuracy. And unlike other choke tubes, this model is specifically designed with standard choke threads. This makes it remarkably compatible with various shooting gear models.
Features
This TRUGLO choke tube model includes various features to ensure excellent performance. One of those features includes its multi-phase groove technology, which greatly assists in the consistency and tightness of your steel shot.
Aside from enhancing the consistency and tightness of your shots, such technology also aids in extending the scope of your shots. With this choke tube, you can shoot very consistent patterns as far as 40 yards. Although it doesn't offer a much more extended range like other choke tubes, it's still worth it for its price.
Ease of Use
This TRUGLO choke tube is also very easy to attach to your firearm. As long as your hunting gear is compatible with this product, you should have no problems installing and adjusting it in place. And you will immediately see the difference in the spread of your shots upon using this choke tube for the first time.
Primos Hunting 69405 Jelly Head Mag Lure 12 Gauge
Primos prides itself as a creator of hunter-approved and tested products for your hunting firearms. So, if you're intrigued about purchasing the Primos Jellyhead Choke Tube, here's a short but detailed review you can refer to below. By the way, it's a choke tested.

Quality of the Build
The Primos Jelly Head Maximum Choke Tube is manufactured with aluminum to make sure the product can withstand harsh environments, and it is built to last long. Its sturdiness is further improved with its special Black-T coating, which is also used as a protective layer for Special Forces firearms.
This special coating does a fantastic job of preventing the formation of rust on the product. Moreover, despite its sturdy construction, this choke tube model is very lightweight, making it easy to carry around and pack for your travels.
Features
This turkey choke tube is manufactured with a prolonged taper and fluted ports to increase your shots' scope. These features are also designed to improve the consistency of your shots and, at the same time, lessen your recoil as you shoot. Thanks to these valuable features, you can make tight patterns from 40 to 60 yards.
Ease of Use
This Primos Jellyhead Maximum Choke Tube is relatively easy to install and use. Just make sure that you don't overtighten the choke tube on your ammunition and follow the necessary safety precautions. As long as you take note of those, you should have a reliable and robust setup for your next hunt.
Hevi-Shot 12-Gauge Extended Range Waterfowl Benelli Crio Plus Choke Tube
Do you need a premium choke tube that will significantly extend your shooting range and improve the consistency of your shots? The Hevi-Shot Twelve-Gauge Benelli Crio Plus might be the one for you. For that matter, here's a helpful review that can help you decide if this choke tube is the best fit for your firearm.

Quality of the Build
This Hevi-Shot Choke Tube is definitely a sturdy model that's built to last. After all, it is made out of durable stainless steel. It is also finished with a sleek matte black coating to prevent rusting and corrosion.
Features
The best thing about this choke tube is its inclusion of ported and protruding fore-ends. Such parts allow you to easily install the choke tube on your firearm without further assistance from other tools. Besides that, this choke tube also utilizes pattern density tech to allow extended shooting ranges, particularly for bird hunting from afar.
Such features allow you to produce consistent, dense patterns from over 50 yards of shooting distance. Furthermore, this product porting also aids in decreasing the gas pressure at your muzzle, lessens your recoil, and diminishes the jump of your muzzle. Finally, this choke tube also includes internal axial rings to keep your firearm locked towards your target.
Ease of Use
This product's ported, protruding fore-ends definitely allow an easy installation process. Navigating your way through this product for the first time won't be as difficult either, as long as you're using a compatible firearm with this product. This choke tube is best suited for the following weapons:
• Benelli SBE II
• M2
• Vinci
• Super Vinci
Turkey Choke vs Full Choke, What's the Difference?
It is easy to believe that the terms "full choke" and "turkey choke" can be used interchangeably, and this is because both of them produce good shots whatever the target. Both are particularly good for hunting game that is small in size, such as waterfowl. They are also great at hitting long-distance targets.
The Turkey Choke is Tighter
However, there is a slight but crucial difference between full choke and turkey choke in that whereas both have significantly tight constrictions, the turkey choke constriction is much tighter. This gives the turkey choke an edge over the full choke when it comes to turkey hunting. It is important to note that constrictions are meant to keep shot clusters and patterns tight, as the pellets squeeze through the choke tube.
A 12-gauge full choke, for example, which is likely to have a diameter of 0.7", 0,708", 0.709" or thereabout, is less effective in long-distance accuracy and impact when it comes to turkey hunting; than a 12-gauge turkey choke whose diameter is in the 0.6" range.
For a specific example, a 12-gauge Carlson's Beretta turkey choke measures 0.640" in diameter, hence it has a much tighter constriction than a 12-gauge Remington full choke that measures 0.7" in diameter.
The tighter the choke, the denser its pattern. This means its pellet spread is narrower and more powerful when it comes to hitting long-distance targets. The full choke is a great choice for hunting game animals, even small ones, and the fact that the turkey choke is even more effective in comparison gives it the reference "extra full choke".
How to Ensure the Turkey Choke Works Best
To make sure to hit the turkey even when it is 50 yards or beyond, it is important to use the right pellets and an adjustable gun barrel.
Use of appropriate pellets
The most respected manufacturers of turkey chokes recommend the use of pellets made of lead alloys, or those made of stainless steel. This is because when used with an extra full choke, such pellets produce patterns that are denser and capable of felling a turkey from a far-off distance.
Steel pellets are particularly known for moving straight when the distance is long, and are, therefore better placed to accurately hit a turkey on the neck or the head. It is worth noting that turkeys are thickly feathered, so for proper effectiveness, it is good to target parts of the turkey that are most vulnerable. The precision required for such an aim requires the use of a choke with the right constriction and the right kind of pellets.
Use of an adjustable gun barrel
Avid turkey hunters prefer to have guns whose barrels can accommodate different kinds of choke tubes. This makes it convenient to use the same gun to hunt game animals of different sizes and behavior, depending on the season. Whereas a full choke can easily hit a waterfowl, a duck, or such other birds found along rivers, an extra full choke is recommended for anyone keen on enjoying a fruitful turkey hunting experience.
How To Choose The Best Turkey Choke
While the kind of shotgun you use doesn't really matter, the choke tubes you use can be the difference between bagging your bird and going home empty-handed.
Role of Choke Tubes in Turkey Hunting
Choke tubes are inserted into the barrel of a shotgun and help to control the pattern of shot that is fired. They control the spread of shot pellets from a shotgun. Choke tubes come in a variety of shapes and sizes, each designed for a specific type of shot.
Thanks to choke tubes, turkey hunters are able to adjust the pattern of shot pellets so that they can more accurately hit their target. Choke tubes also allow you to adjust the tightness of the shot pattern, which is especially important for hitting fast-moving turkey birds.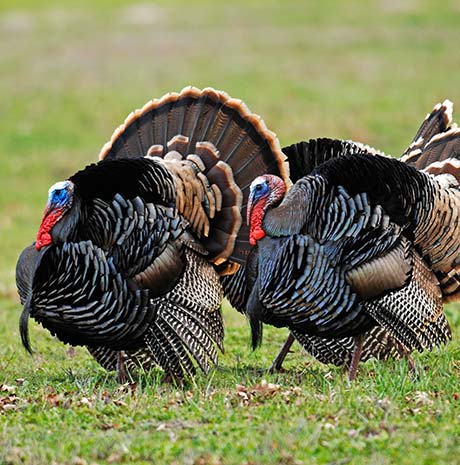 Factors to Consider when Choosing Choke for Turkey Hunting
Choke tube type
When turkey hunting, choke tube type is an important consideration. Different types of choke will produce different shot patterns when you pull the trigger. Knowing which choke tube type to use in different situations is crucial. It's a rule of thumb.
The five most common turkey hunting choke tube constrictions are Cylinder, Improved Cylinder, Modified, Skeet, and Full.
1. Cylinder
• Constriction for 12 range- 0.00
• Shot range- Less than 20 yards
Cylinder choke tubes produce the widest pattern, which makes them ideal for hunting turkeys at close range.
2. Skeet
• Constriction for 12 range- 0.005
• Shot range- 25 yards
The skeet choke tube is designed to give the turkey hunter a more open pattern, which is ideal for shooting moving wild turkeys.
3. Improved Cylinder
• Constriction for 12 range- 0.01
• Shot range- 30 yards
The improved cylinder choke tube type allows the shooter to have a tighter pattern than the Cylinder choke tube type for target shooting.
4. Modified
• Constriction for 12 range- 0.02
• Shot range- 30 to 40 yards
Improved cylinder choke tubes produce a slightly narrower pattern, making them better suited for hunting at medium ranges.
5. Full
• Constriction for 12 range- 0.04
• Shot range- Up to 65 yards
Improved cylinder choke tubes produce the tightest pattern and tightest tolerances this tube, making them better suited for hunting at long ranges.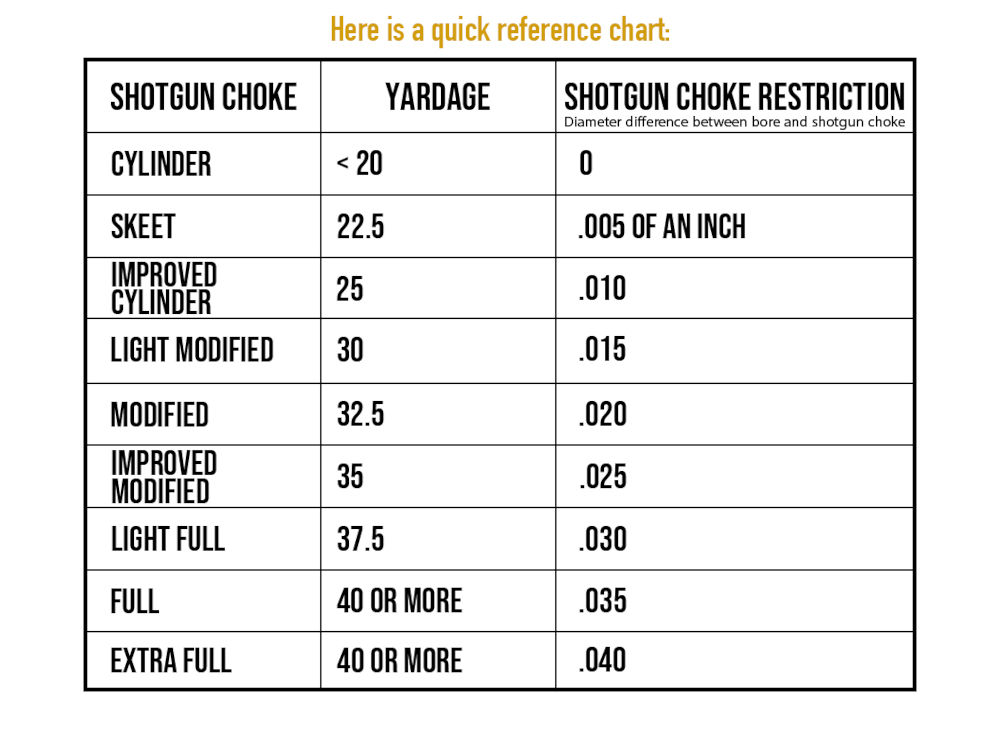 Constriction size
The choke tube's constriction size determines how tightly the fatal shot is packed when it leaves the barrel of the gun.
Nowadays, turkey hunting enthusiasts have a variety of choke tubes to choose from when they go afield. Generally, the constriction sizes for choke tubes used in turkey hunting range from 0.00 to 0.10 inches.
A smaller constriction size will give you a tighter and more focused pattern, which is ideal for hitting turkeys at longer ranges. A larger constriction size will provide you with a wider pattern, which is perfect for shooting turkeys at shorter ranges.
Choke tube material
When it comes to choke tubes, steel is the best material. Here's what makes this material ideal:
• Steel is strong and durable, meaning it can withstand regular use without breaking.
• Steel produces tight patterns, making it an excellent choice for hunting.
• Steel has a low coefficient of friction, meaning that it can move smoothly through the barrel, which is vital for consistent accuracy.
• Steel is easy to clean and does not corrode, making it a good choice for wet environments.
Technology used
When selecting a choke for turkey hunting, it is vital to consider three crucial technologies: CNC machining, multiple phase technology, and trip shot technology.
1. CNC machining
CNC machining is a process that uses computer-controlled cutting tools to create precise, complex shapes. This technology is perfect for manufacturing shot chokes because it allows for tight tolerances and extreme precision. By using CNC machining, manufacturers can create choke tubes that are perfectly matched with shotgun barrels used for turkey hunting.
2. Multiple phase technology
Multiple phase technology is the other option that is growing in popularity in the choke tubes scope. This technology utilizes a choke tube that uses rotating rings that rotate as the shot leaves the barrel. This helps keep the shot together longer, for a more consistent pattern.
3. Trip shot technology
Trip shot technology is another option to consider. With this technology, a choke tube uses a spring-loaded mechanism that trips when the trigger is pulled. This helps decrease pellet deformation.
Compatibility with turkey hunting guns
Turkey guns are not all created equal. There are many different makes and models, and each one handles differently. In order to make the most of your waterfowl hunting experience, it's essential to use the right choke tube for your particular gun.
Some shot chokes are specifically designed for use with Remington guns, while others are compatible with Mossberg and Tristar shotguns.
If you purchase a branded choke tube that is not compatible with your specific gun, you may not be able to install the tube, or you may damage the threads on the barrel.
The Bottom Line
Turkey hunting is a challenging sport that can be very rewarding when successful. There are many different techniques and pieces of equipment that can be used in waterfowl hunting, but choke tubes are one of the most important.
If you're in the market for a new strike turkey choke, it's essential to do your research to find the right one for you. This article walked you through the process of choosing the best turkey choke for your needs.
Now that you know what to look for, it's time to take action! Head to your favorite sporting goods store and start trying out the different turkey hunting chokes to see which gives you the best results.