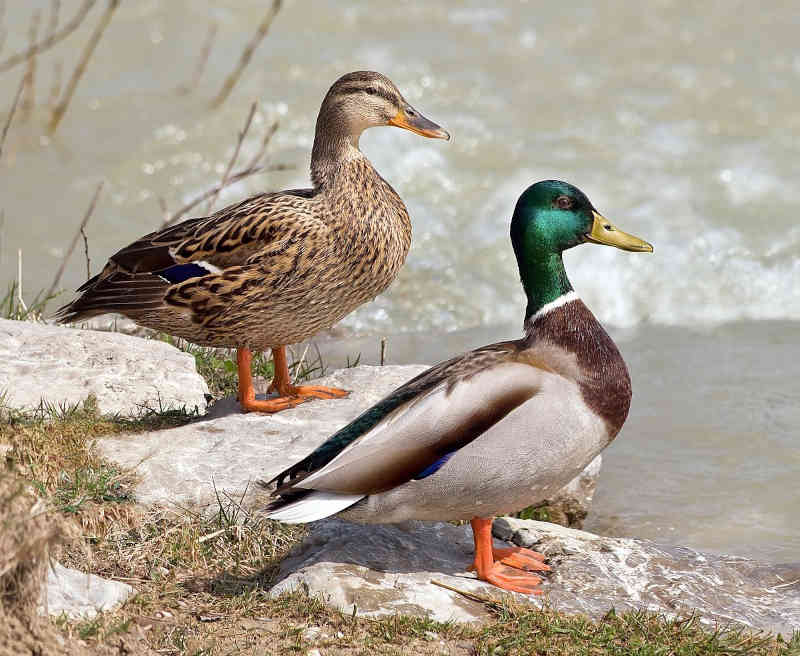 A basic understanding of chokes and loads will save you much disappointment on the range and in the field. This is because regardless of how top-performing your shotgun is, the wrong choke can lead to severely underwhelming – and sometimes confusing – results.
To put it crudely, chokes work in a similar fashion to a garden hose nozzle. Just as the nozzle can be tightened or loosened to control the range and spray of water, a choke can be manipulated to control shot charges within, improving control.
We've rounded up the 3 best chokes for duck hunting to bring your hunting game to the next level. Check these out and decide on the best one for your next waterfowling adventure.
Patternmaster 10-Gauge Browning Invector Choke Tube
Patternmaster's Browning Invector Choke Tube is also called Code Black duck and lies at the top of our list of the 3 best chokes for duck hunting. This is because it is among the most versatile choke tubes on the market, giving you a whole range of shot patterns.

Features of Code Black Duck
Patternmasters Code Black Duck allows the discharge of gas quickly, which reduces pressure and creates a more balanced consistent patterns.
It is made up of titanium-infused 17-4ph stainless steel and has a bronze titanium coating. They can endure corrosion and heat effectively.
The choke tube is versatile in its design, structure, and function. The choke's system is designed to cut the gunshot string enormously to ensure you hit the waterfowls with bursting capacity at once.
It allows you to effortlessly kill, not cripple, a waterfowl from long distances, making it a preferable option for ethical and clean shooting.
For the best results, the manufacturer recommends ammunition velocities below 1550fps.
Carlson's Non-Ported Long Range Choke Tube
The Carlson's choke tube uses TST (Triple Shot Technology), offering a series of three graduated rings in the narrower segment of the choke tube. It provides a steady shift from the shotgun bore to the final constriction. This design makes this choke tube more effective on every kind of ducks and geese during the entire shooting season.

Features of Carlson's Non-Ported Long Range
It comes with a beautiful black matte finish design and is made of 17-4 stainless steel.
The choke tube fits a Beretta/Benelli Mobil 12ga Cremator.
It ensures no limitations in any constrictions as long as the speed or size of the steel shot is concerned.
The tube comes with a 25% extended parallel section for tighter and more compact shot patterns.
It offers multiple other benefits of an elongated choke tube, such as wrench-less installation, quick removal, and help with muzzle protection.
Trulock Yildiz Precision Hunter Choke Tube
Trulock is the last high-quality choke tube among the 3 best chokes for duck hunting. They are one of the most unique choke tubes with the most reasonable pricing. When looking for Trulock Yildiz Precision Hunter Choke Tube, you are better off opting for bored-out holes since they are designed to lessen the amount of recoil.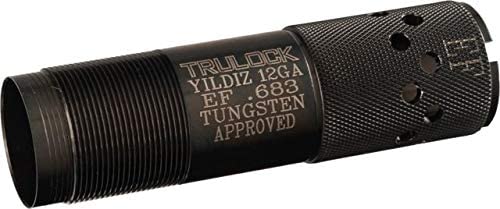 Features of Trulock Yildiz Precision
The choke tube is made of 17-4 stainless steel and has a beautiful black finish.
They are easy to replace and can fit perfectly onto most guns.
They are designed to release the gas quickly and allow reduced recoil and pressure.
These tubes come in a range of gauges, from 12 ga to 20 ga.
It efficiently separates the wad and does so more rapidly than other tubes.
Different waterfowl shotgun chokes vary in constrictions leading your shot to be broader or narrower at a given distance depending upon the level of your gunshot restriction. Any one of the 3 best duck choke as those above will give you much more control over choke constriction for your shot load at a given field.
How To Choose The Best Choke For Duck Hunting?
Duck hunting is a skill that requires precision and agility. Most waterfowl hunters focus on the type of gunshots when finding the perfect angle for a clean fatal shot. They ignore the most important element of a gunshot. The waterfowl choke tube is a small tube fitted on top of the barrel of a shotgun. It holds the charge of the tube for some time before releasing the pellet.
A choke is a tapered constriction of a gun barrel at the muzzle end. It can be used with rifles, pistols, air guns, and waterfowl shotguns. Think of a water hose. If you want to water a plant with a small pot you use your fingers to make the water stream narrow. That is exactly what a choke does for the pellets shot by a gun. You can make the shots wide or narrow-based on your preference and the type of choke you use.
A choke tube can change the pattern of a shotgun, improving the accuracy of a shot. The first patent for a shotgun choke was granted in 1866 and in 1969 Winchester introduced the WinChoke on its Model 1200 and Model 1400 shotguns. Nowadays shotguns come with screw-in chokes.
An ideal combination of choke and load places 70 to 75 percent of the shot charge into a 30inch circle. You can use a skeet or a modified pattern for shooting at a small distance and decoying ducks. If you are looking for a clean-cut first shot, you can go for an extra full choke tube.
Types Of Chokes For Duck Hunting
Chokes come in all shapes and sizes. The cylinder choke is a constricted barrel and its lead shot spreads quickly after leave the barrel. An improved cylinder choke has a slight constriction and is mostly used for quills, rabbits, and hunting at small distances. The details of other types of chokes are given below to help you choose the right choke for hunting ducks.
Extra-Full or Super-Full Choke Tubes
The super-full choke tubes have an extra-tight constriction. They provide a clear shot, especially for turkey hunting. The tight constriction creates a dense pattern to provide a clear shot and can be used for duck hunting if you are at a close range. However, an extra full choke puts pressure on the gun and can damage the pellets.
Full Choke Tubes
A full choke has a tight constriction and forms a dense pattern. This choke holds the shot for a long time and is good for squirrels, turkeys, and fowls. If you want to hunt ducks at long ranges, you can use a full choke tube for your hunting gear. It delivers approximately 70 percent of a shell's total pellets in a 30-inch circle at 40 yards.
Modified Choke Tubes
A modified choke tube has a moderate constriction. It keeps the pellets close together and makes the shot dense for a clear shot at a long extended range. You can also use an improved modified choke to make your shots more accurate. It is perfect for trap shooting, pheasants, rabbits, and, of course, ducks. It delivers approximately 60 percent of a shell's total pellets in a 30-inch circle at 40 yards, increasing your chances of hunting down your game.
Cylinder Choke
A cylinder choke does not have any constrictions. It is not suitable for waterfowl hunts and is mostly used by law enforcement agencies.It distributes approximately 40 percent of a shell's total pellets in a 30-inch circle at 40 yards. It allows you to shoot at a greater diameter and is also called an open choke. You can use slugs to improve the accuracy of a cylinder choke.
Improved Cylinder Choke
An improved cylinder choke has lower constrictions than a modified cylinder. It distributes approximately 50 percent of a shell's total pellets in a 30-inch circle at 40 yards. These chokes are improvised for close quarters. They are mostly employed for shooting waterfalls such as ducks and decoys, especially quail and grouse. Improved cylinder chokes work best with rifled slugs.
Steek Chokes
A skeet choke is used for close effective range skeet shooting. In this respect, the pellets are distributed at approximately 50 percent of a shell's total pellets in a 30-inch circle at 25 yards. It will help you practice your shot in the open air without worrying about missing a shot in a real-life duck hunt.
How Does A Choke Improve Your Duck Hunting Experience?
Hunters used to buy a number of barrels before chokes were invented. Each time the distance changed, the duck hunter had to use a new barrel to improve the accuracy of the shot. A choke saves your time and energy. All you need is a wrench to adjust your screw-in choke when you are closing in on your game hunt. Some companies have diversified their shotguns by retrofitting fixed-choked guns. You can also get custom-design replacement choke tubes for factory-threaded barrels to improve your hunting experience.
Constriction And Distribution Percentage For Chokes
Here is a list of the constriction points and the percentage for each type of choke used in different guns.
Choke
Constriction
Percent
Identification
(Notches)
Cylinder
.000
40 at 40 yd
70 at 25 yd
IIIII notches
Skeet 1
.005
45 at 40 yd
75 at 25 yd
Improved Cylinder
.010
50
IIII notches
Skeet 2 (light Mod.)
.015
55
Modified
.020
60
III notches
Improved Modified
.025
65
II notches
Full
.030
70
I notch
Extra Full
.040
73
Turkey
.045 plus
75 plus
What Is The Best Choke For Duck Hunting?
The best choke for duck hunting is a modified choke tube. It improves the process of decoying a duck and goose. They help adjust the pattern of the shot as the bullet is released from the duck guns. You can adjust all types of shots and shot sizes through a modified choke tube. Screw-in choke tubes can be replaced for wide, constricted, and full shots. Once you screw in the modified choke, you can make a clear shot as far as 40 yards without flinching. Make sure you use the right angle and keep the shot dense to enhance your precision.
Conclusion
The process of selecting a choke for a gunshot depends on your expertise. If you are new to the sports of duck hunting, you can use a skeet choke to practice. Once you have gained a little experience, you can move on to an open choke or a cylinder. As you work your way towards a cleaner and ethical shot, you can start using an improved cylinder, extra-full, and then full choke. When you are ready to shoot ducks at a long-range, a modified choke is your best choice.