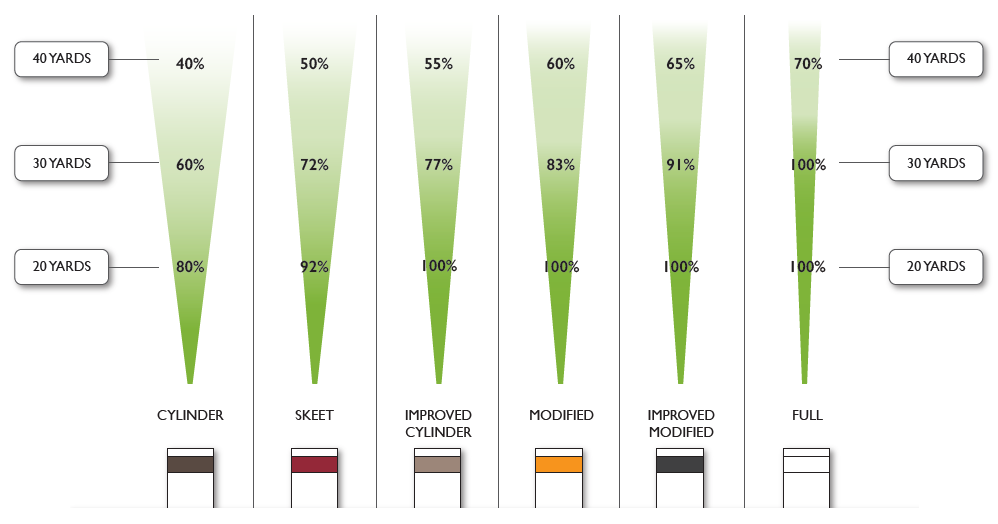 Chokes are a critical part of your shotgun experience, yet they are often misunderstood.
What does a choke do, exactly? How tight should your choke be? And how do you choose the right choke for your needs? These are all important questions to answer if you want to make the most of your shotgun.
In this post, we'll break down everything you need to know about chokes. So, stay tuned!
Shotgun Chokes: What are They?
Shotgun chokes are one of the mystery weapons in a bird hunter's arsenal. As anyone who has ever gone bird hunting knows, there are a lot of different variables that can affect your success in bagging a bird.
The size of the bird, range, wind and even the type of shotgun you are using can all play a role.
So, what exactly is a choke? A choke is a device attached to the muzzle of a shotgun.
And what does a choke do?
The purpose of a choke is to control the spread of the shot as it leaves the gun barrel. Several chokes are available, each designed for different hunting situations.
Shotgun chokes are simply tapering that screw into the end of your shotgun barrel. This changes the barrel's taper, making it smaller for part of its length. The effect is to control where your shot pellets hit. Each type of choke has a different kind of tapering and will cause your shot to spread differently.
For example, skeet shooters will typically use a more open choke, while trap shooters will use a tighter choke. The type of choke you use can significantly impact your success in bringing down a bird. And when choosing a choke, it is essential to consider the type of hunting you will be doing and select the proper one well suited for the task.
Before learning how to use a choke, let's discuss their purpose first.
Shotgun Chokes and Patterning
As mentioned, shotguns are available in many different configurations and action types, but they all have one thing in common: they fire multiple projectiles at once.
The most common type of a shotgun is probably the pump-action model, which uses shells containing either two or three projectiles (depending on whether you're using 2 3/4″ or 3″ shells). These shotguns produce a consistent pattern at short distances, but their patterns become larger and more spread out as distance increases.
To improve this situation, manufacturers started producing shotguns with screw-in chokes that could be adjusted based on how tight they were screwed into the barrel.
Types of Chokes Tubes
Shotgun chokes are the tubes that go on the end of your shotgun barrel. Therefore, they're designed to alter the spread of the shot as it leaves the muzzle, creating different patterns at various distances. There are four main types of chokes – cylinder, improved cylinder, modified, and full – each with its unique characteristics:
• Cylinder: This choke type gives you a wide pattern at close range and a more dense pattern at longer ranges. It's perfect for bird hunting or shooting sport but not so great for upland bird hunting because it doesn't provide any choke protection for birds flying towards you.
• Improved Cylinder: This choke type is suitable for upland bird hunting (especially pheasant and grouse) and works well with light target loads at longer ranges due to its improved patterning capabilities than the traditional cylinder choke.
• Modified: This is often used for wild turkey hunting or shooting light target loads at effective range. It's also a perfect choice for upland bird hunters who don't want to spend hours walking through heavy cover and prefer to sit in an open area and wait for birds to come by instead.
• Full: The most open choke available on most shotguns, full choke provides excellent patterns at short range but can sometimes be challenging to shoot accurately beyond 50 yards.
From the Point of View of Shotguns
The Partridge Choke
The partridge (or pheasant) choke is perhaps the most versatile. You don't need to change the choke frequently. It has two primary uses in shotguns, both for hunting and self-defense. It works well for both short- and long-shotgun applications and all other firearms chokes. The choke tube is spring-loaded, allowing for a variable amount of airflow. Spring-loaded chokes work by pushing air into a barrel, but only some of it gets through the barrel and into the projectile. Because the spring is working against air, the choke tube is closed, which results in a smaller airflow and softer pellet.
Adjustable Shotgun Chokes
Adjustable shotguns are ideal for people who hunt with a variety of shotguns. A good adjustable shotgun choke lets you choose the right amount of resistance for each type of shot. Some adjustable chokes have an internal stop so they won't accidentally fire in the fully closed position. If you're hunting with an adjustable stock-stock shotgun, ensure the internal stop is in the "up" position. If you're hunting with an open-barrel shotgun, ensure the internal stop is in the "down" position.
Semi-Auto only – No Freezing Action
This choke is appropriate for semi-automatic shotguns. The internal spring-catcher locks the choke in the closed position, preventing the airflow from creating the freezing action required for around to strike a vital organ. Most semi-automatic shotguns don't need to be adjusted for individual choke types, so you can purchase a different model with a choke you don't need if you want to use a different type. Most semi-automatic shotguns work best with a choke with a longer tube than a partridge choke. If you have an open-barrel shotgun, make sure the choke tube is at least long enough to clear the barrels of all loaded shells. You don't want a choke on the shotgun that won't fit in the tube because the shotgun's recoil would cause the choke to loosen up and hit the stock.
Freezing Action Only – No Need to Adjust
Freezing action shotguns don't have any recoil to worry about, so they can be used in various choke types. Most free-floating chokes are designed to fit a free-standing shotgun, like a 12-gauge or 20-gauge, so they won't interfere with the gun's handling or shooting characteristics in a free-standing position. If you're primarily interested in using your shotgun for hunting and don't care about its handling characteristics, a free-floating choke is perfect. Free-floating chokes also allow for more versatility in the type of game you hunt. Some free-floating chokes are designed to fit either a traditional or slanted shoulder stock, giving you the ability to use your favorite type of shoulder stock without buying a separate stock for each type of shoulder you hunt with.
How to Use a Choke: Different Types Available
There are currently four basic kinds of shotgun choke tubes, but more may be invented in the future. Shotguns have a proper choke that can be adjusted to suit your needs. Its primary purpose is to determine your distance from the target. But what do you need to know about a choke before buying one? This article gives you basic information on different types of shotgun chokes and how you can use them.
A cylinder choke has no tight constriction. The shot string spreads quickly as it leaves the muzzle, so it's not ideal for waterfowl hunting or shooting sporting clays, where accuracy matters. However, it's excellent for larger hunting game like deer because the shot string spreads out to a broader pattern, and more of the pellets hit the target.
An improved cylinder choking has a larger bore than the cylinder choke, and it's slightly constricted to give you a tighter shot pattern. It's an excellent all-around choke for turkey hunts or trap shooting.
A improved modified choke has a slightly smaller bore than the improved cylinder choke, but it's still constricted to make a tighter guns pattern. It's perfect for shooting at longer distances or when you want more control over your shot pattern.
A full choke is a constricted barrel that allows the shot to spread out in the same pattern it would if fired through a cylinder bore.
Why You Should Clean Your Shotgun Choke
Now that we've learned how to use a common choke, we must also consider the importance of keeping them in top shape.
Shotguns have many moving parts, and when you're cleaning them, it can be hard to know what to do. Use a cleaning rod and brush to remove stuck particles from the bore barrels of your gun and then apply solvent or lubricant as needed. Use a toothpick or other small tool to clean out any debris in the action area of your firearm-you may need to use pliers if there's something particularly stubborn!
What's the Best Shotgun Choke?
For most shotgunners, the choice between full and modified chokes is simple. Suppose you're shooting at anything more than 25 yards; you want a full choke.
And a full choke is the best type of shotgun choke for long-range competitive shooting because it provides tighter pattern density and better shot placement. This makes it easier to hit your target with fewer steel shots.
The tighter patterning of a full choke also comes in handy on smaller targets like clay pigeons or turkey decoys. You don't have to be quite as accurate with your aim when using a full choke as you do with other turkey chokes because the pattern will be denser and, therefore, more likely to hit something vital on the target even if you miss by an inch or two.
On a side note, the disadvantage of using any choke is that it makes it harder for you to bring down the game at close range – especially if it's moving quickly – because buckshot spreads out into a broader pattern when shot through a tighter choke.
So, what does a choke do? A choke tightens the pattern of shot pellets as they leave the choke barrel. This makes the shotgun more accurate at longer ranges. There are many different types of chokes available, and each has its benefits and drawbacks. The best choke for you will depend on your shooting style and the kind of hunting. However, a full choke is a good option for buckshot.
Hopefully, this article has helped you better understand shotgun chokes and how to choose the right one for you. Thanks for reading!